Coaching-Based Leadership Assess
ment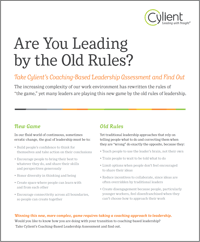 The increasing complexity of our work environment has rewritten the rules of "the game," yet many leaders are playing the new game by the old rules of leadership. And we're all losing as a result. Winning this new, more complex game requires taking a coaching approach to leadership.
Are You Leading by the Old Rules?
Would you like to know how you are doing with your transition to coaching-based leadership? Download Cylient's Coaching-Based Leadership Assessment and find out.